Measuring your ironing board
You must ensure that your ironing board is the correct size for this product.
To ensure the correct fit the board should be measured at its widest point including the depth and its longest point including the depth.
Length = A + C + C
Width = B + C + C
We've made all of our ironing board covers a slightly more generous size to cope with the multiple options of ironing boards available.
Are you sure that this cover will fit your shape & size of Ironing Board?
Homepage > Hotel Wooden Security Hanger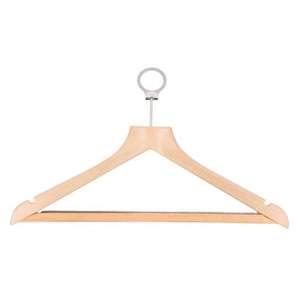 Questions? Call us anytime on 0207 482 5388
This Shaped Suit Hanger comes with a non-slip Trouser Bar with notches.

It comes with a chrome captive security fitting

( 4cm internal diameter ) 44cms wide ( 17 1/4" )

We also sell Garment Rails in many different sizes to put the Hangers on.