Measuring your ironing board
You must ensure that your ironing board is the correct size for this product.
To ensure the correct fit the board should be measured at its widest point including the depth and its longest point including the depth.
Length = A + C + C
Width = B + C + C
We've made all of our ironing board covers a slightly more generous size to cope with the multiple options of ironing boards available.
Are you sure that this cover will fit your shape & size of Ironing Board?
Homepage > Hotel Security Ring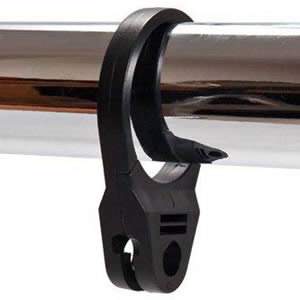 Questions? Call us anytime on 0207 482 5388
Buy Hotel Security Ring
Easy to fit on most Garment Rails
Difficult to remove
Strong polypropylene
Added Benefit of being able to clip on and so can be affixed to stationary poles
Average 5.0/5 from 2 reviews.
Strong Polypropylene Security Hanger Snap-On Ring. 40mm dia. This ring will fit onto most standard diameter rails. Easy to fit onto the rail but difficult to remove.
Rating:
Customer Review:
A great product which I can clip onto my wardrobe rail with having to remove the rail to fit it.
Reviewed By:
Eileen Gilmore
|
Review Date:
18-09-2013
Rating:
Customer Review:
Excellent for caravan with rear wardrobe - prevents clothes being all in a heap on arrival
Reviewed By:
sheila williams
|
Review Date:
22-08-2011
Rating:
Customer Review: Some time ago there was an article in the Club Magazine, about Hotel Type Coat Hangers, which a member had used, and so avoided the problem, so often encounted, where the hangers have bounced off the rail of the wardrobe, and all the clothes are on the bottom of the wardrobe,when you arrive atyour destination.

I thought this was a brilliant idea, but have had difficulty in tracing this type of hanger.

I have now discovered www.caraselledirectcom who sell these hangers, as well as a large number of other items for caravanners.They do wooden or plastic hangers, and metal or plastic hooks.The advantage of the plastic hook is that they can be fitted without removing the hanging rail.

I have found them extremely helpful,with a very prompt delivery service.They can be contacted on Freephone 08000 199 309 or on www.caraselledirect.com

I should be obliged if this article can be repeated in the Club Magazine, incidently I have bought a second set of rings, so that the hangers can be taken straight from the House Wardrobe to the caravan.
Reviewed By:
Bill Powell
|
Review Date:
15-07-2009