Measuring your ironing board
You must ensure that your ironing board is the correct size for this product.
To ensure the correct fit the board should be measured at its widest point including the depth and its longest point including the depth.
Length = A + C + C
Width = B + C + C
We've made all of our ironing board covers a slightly more generous size to cope with the multiple options of ironing boards available.
Are you sure that this cover will fit your shape & size of Ironing Board?
Homepage > Breathable Wedding Gown Cover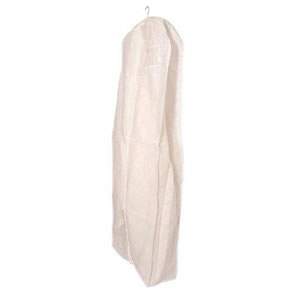 Questions? Call us anytime on 0207 482 5388
Buy Breathable Wedding Gown Cover
Made of breathable recyclable Peva material
Extra long cover 183 cms
Large gusset 25cm
Clear document pocket
Semi splash proof fabric

Breathable Wedding Gown Cover Reviews »
Average 4.9/5 from 7 reviews.
This Wedding Dress Cover is made of entirely breathable peva material.

The fabric used is semi-splash proof.

The design features a large gusset of some 25cms & there is a loop for folding the carrier.

There is a large clear document pocket on the cover.

The wedding dress cover can be recycled.

Length = 183 cms (72") Width = 66 cms (26") Gusset = 25 cms (10")